简爱读后感英文
  《简·爱》是19世纪英国最出色的小说,它通过简·爱本人短短二十年人生经历的描述,来展示当时社会的政治风貌和地位差异所带来的'不平等。为此小编为大家精心推荐一些简爱读后感英文的优秀例文,希望对大家有帮助。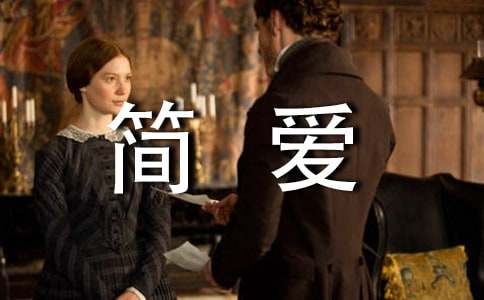 简爱读后感英文篇1
  Recently, I have reading the book "Jane Eyre"。 Although I forgot some details in the book, Jane gave me deeply impression, I admire her very much. After that the teacher also told us to put the play in to a movie, and then we all can touch each hero's soul in the book. The play it mainly tell us how Jane is growing up when suffering from great difficulties and painless. what's more, it is impressed me that she still love her master even if he is blind at last due to rescue his mad wife. And I like the Classic lines what Jane said to Mr. Rochester :"Do you think I can stay to become nothing to you? Do you think I am an automaton?--a machine without feelings? and can bear to have my morsel of bread snatched from my lips, and my drop of living water dashed from my cup? Do you think, because I am poor, obscure, plain, and little, I am soulless and heartless? You think wrong!--I have as much soul as you,--and full as much heart! And if God had gifted me with some beauty and much wealth, I should have made it as hard for you to leave me, as it is now for me to leave you. I am not talking to you now through the medium of custom, conventionalities, nor even of mortal flesh;--it is my spirit that addresses your spirit; just as if both had passed through the grave, and we stood at God's feet, equal,--as we are!" its so beautiful, Jane is a girl who will never lose confidence in life and always sensible when handling with some motional problems. Jane was huge in my heart. She can control her life and fate. She knew how to continue her life and she got it!
  Maybe after what she told me I have known that what love is and how to love and to be loved! The book is a book worth of reading, so all in all let's enjoy it!
  简爱读后感英文篇2
  Charlotte Bronte's Jane Eyre
  Jane Eyre was published in 1847 under the androgynous pseudonym of "Currer Bell." The publication was followed by widespread success. Utilizing two literary traditions, the Bildungsroman and the Gothic novel, Jane Eyre is a powerful narrative with profound themes concerning genders, family, passion, and identity. It is unambiguously one of the most celebrated novels in British literature.
  Born in 1816, Charlotte Bronte was the third daughter of Patrick Bronte, an ambitious and intelligent clergyman. According to Newsman, all the Bronte children were unusually precocious and almost ferociously intelligent, and their informal and unorthodox educations under their father's tutelage nurtured these traits. Patrick Bronte shared his interests in literature with his children, toward whom he behaved as though they were his intellectual equals. The Bronte children read voraciously. Charlotte's imagination was especially fired by the poetry of Byron, whose brooding heroes served as the prototypes for characters in the Bronte's juvenile writings as well as for such figures as Mr. Rochester in Jane Eyre (2)。 Bronte's formal education was limited and sporadic – ten months at the age of 8 at Cowan Bridge Clergy Daughters' School (the model for Lowood Institution in Jane Eyre), eighteen months from the age of 14 at Roe Head School of Miss Margaret Wooler (the model for Ms. Temple) (Nestor 3-4)。 According to Newman, Bronte then worked as a teacher at Roe Head for three years before going to work as a governess. Seeking an alternative way of earning money, Charlotte Bronte went to Brussels in 1842 to study French and German at the Pensionnat Heger, preparing herself to open a school at the parsonage. She seems to have fallen in love with her charismatic teacher, Constantin Heger. The experience seems on a probable source for a recurrent feature in Bronte's fiction: "relationships in which the inflammatory spark of intellectual energy ignites an erotic attraction between a woman and a more socially powerful man" (Newman 6)。 The Brontes' efforts to establish a school at the parsonage never got off the ground. Still seeking ways to make money, Charlotte published, with her sisters, the unsuccessful Poems by Currer, Ellis, and Acton Bell. Her first effort to publish a novel, The Professor, was also unsuccessful. Jane Eyre, published in October 1847, however, was met with great enthusiasm and became one of the best sellers. As "Currer Bell" Bronte completed two more novels, Shirley and Villette. She married Reverend William Bell Nicholls in 1854 and died nine months later, at the age of thirty-nine in 1855 (Nestor 4-5)。
  The story of Jane Eyre takes place in northern England in the early to mid-19th Century. ("Jane Eyre" 151) It starts as the ten-year-old Jane, a plain but unyielding child, is excluded by her Aunt Reed from the domestic circle around the hearth and bullied by her handsome but unpleasant cousins. Under the suggestion of Mr. Lloyd, an apothecary that sympathizes Jane, Mrs. Reed sends Jane to Lowood Institution operated by a hypocritical Evangelicalist, Mr. Brocklehurst, who chastises Jane in front of the class and calls her a liar. At Lowood, Jane befriends with Helen Burns, who helps the newly arrived Jane adjust to the austere environment; she is also taken under the wing of the superintendent, Miss Temple. One spring, many students catch typhus due to the harsh condition. Helen dies of consumption. At the end of her studies Jane is retained as a teacher. When Jane grows weary of her life at Lowood, she advertises for a position as governess and is engaged by Mrs. Fairfax, housekeeper at Thronfield, for a little girl, Adele Varens. After much waiting, Jane meets her employer, Edward Rochester, somber, moody, quick to change in his manner, and brusque in his speech. Mysterious happenings occur at Thronfield, including demonic laugh emanating from the third-story attic and a fire set in Rochester's bedroom one night. Rochester attributes all the oddities to Grace Poole, the seamstress. Meanwhile, Jane develops an attraction for Rochester. Rochester, however, often flirts with the idea of marrying Miss Ingram. An old acquaintance of Rochester's, Richard Mason, visits Thornfield and is severely injured from an attack apparently from Grace. Jane returns to Gateshead for a while to see the dying Mrs. Reed. When she returns to Thornfield, Rochester asks Jane to marry him. Jane accepts, but during the wedding, Mason and a solicitor interrupt the ceremony by revealing that Rochester is keeping his lunatic wife, Bertha Mason, in the attic in Thornfield. Despite Rochester's confession, Jane leaves Thornfield. She arrives at the desolate crossroads of Whitcross and runs into the Rivers siblings, who tend her in Moor House. Jane happily accepts the offer of teaching at St. John's school.
  简爱读后感英文篇3
  Jane Eyre, is a poor but aspiring, small in body but huge in soul, obscure but self-respecting girl. After we close the covers of the book, after having a long journey of the spirit, Jane Eyre, a marvelous figure, has left us so much to recall and to think:
  We remember her goodness: for someone who lost arms and blinded in eyes, for someone who despised her for her ordinariness, and even for someone who had hurt her deeply in the past.
  We remember her pursuit of justice. It's like a companion with the goodness. But still, a virtuous person should promote the goodness on one side and must check the badness on the other side.
  We remember her self-respect and the clear situation on equality. In her opinion, everyone is the same at the God's feet. Though there are differences in status、in property and also in appearance, but all the human being are equal in personality.
  We also remember her striving for life, her toughness and her confidence.
  When we think of this girl, what she gave us was not a pretty face or a transcendent temperament that make us admire deeply, but a huge charm of her personality.
  Actually, she wasn't pretty, and of course, the ordinary appearance didn't make others feel good of her, even her own aunt felt disgusted with it. And some others even thought that she was easy to look down on and to tease, so when Miss Ingram met Jane Eyre, she seemed quite contemptuous, for that she was obviously much more prettier than 'the plain and ugly governess'.(www.lz13.cn) But as the little governess had said: 'Do you think, because I am poor, obscure, plain, and little, I am soulless and heartless? You think wrong!' This is the idea of equality in Jane Eyre's mind. God hadn't given her beauty and wealth, but instead, God gave her a kind mind and a thinking brain. Her idea of equality and self-respect impress us so much and let us feel the power inside her body.
  In my mind, though a person's beauty on the face can make others once feel that one is attractive and charming, if his or her mind isn't the same beautiful as the appearance, such as beauty cannot last for, when others find that the beauty which had charmed them was only a falsity, it's not true, they will like the person no more. For a long time, only a person's GREat virtue, a noble soul, a beautiful heart can be called as AN EVERLASTING BEAUTY, just as Kahill Gibran has said, that 'Beauty is a heart enflamed and a soul enchanted. I can feel that how beauty really is, as we are all fleshly men, so we can't distinguish whether a man is of nobleness or humbleness, but fleshly men, so we can't distinguish whether a man is of nobleness or humbleness, but as there are great differences in our souls, and from that, we can know that whether a man is noble or ordinary, and even obscure, that is, whether he is beautiful or not.
  Her story makes us thinking about life and we learn much from her experience, at least, that is a fresh new recognition of the real beauty .
【简爱读后感英文】相关文章:
《简爱》英文的读后感范文01-22
简爱的英文读后感范文400字01-22
关于简爱读后感12-29
【推荐】《简爱》读后感03-27
简爱读后感【精】03-18
【精】简爱读后感03-18
简爱读后感【热门】03-17
2022简爱读后感03-08
【推荐】简爱读后感03-02
简爱读后感【热】02-07